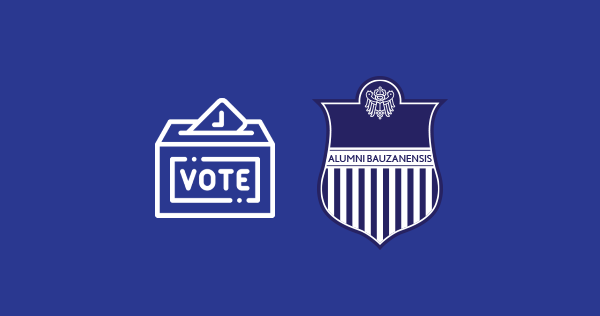 Dear alumni and future alumni, the upcoming elections for the new board of the unibz alumni club will take place on 12th November 2021.

The unibz alumni club is a non-profit association which elects a new directive board every two years. The board members act as representatives of all unibz graduates towards the university and other stakeholders and promote initiatives and activities in the interest of the club members.

Timeline
• Deadline for candidacy: 7 November, 2021
• Deadline for online voting request: 10 November, 2021
• Candidates presentation on website and social media: 8 November, 2021
• Election day – 12 November, 2021:
o 6:15pm: online assembly on MS Teams
o 6:30-7:00pm: closing of online elections
o 7:00pm: results and new directive board

Who can vote?
Any unibz graduate and all unibz regular students with at least 150 ECTS if bachelor or 90 ECTS if master students. In order to allow us to check your eligibility, please register here: bit.ly/alumni2021_vote. Your data will be checked by the university, which will confirm that you fulfill the criteria.

Who can run as candidate?
Anyone eligible to vote is also eligible to run for the new directive board. If you have loved your time at unibz and would like to give back your passion, skills and few of your time in order to further develop and maintain the unibz alumni network in the world, then the directive board awaits you! Register here: bit.ly/alumni2021_candidate and if you would like to talk to the current board members, please write an e-mail to alumni-club@unibz.it.

Where do I find the candidates?
Starting from 8th November 2021 the candidates will be presented on the alumni.unibz.it website and on social media (facebook, linkedin).

How do the elections work?
Each voter can express up to 4 preferences among all candidates. The 5 candidates with most votes are elected as new board members.
Before the election day you will receive voting and assembly details on the email address you registered with.
On 12th November the voting system will be activated. Open your link and log into your account where you will find the list of candidates. Choose (wisely) four of them and submit your vote.
The system is anonymized, meaning that it won't be possible to see who you voted for, but that you voted only once.
Once the voting time is over at 7pm, the results will be disclosed and the new directive board will be nominated.
Candidates are not required to be present, however they should be available – in case of nomination – for their first board meeting in which they will decide the new president and vice-president.
We're looking forward to seeing you soon at our unibz alumni board assembly and elections!

Your outgoing alumni club board: Daniel, Alex, Andrea, Gordana, Marco, Matthias, Sabina